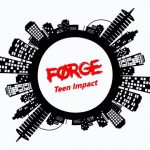 TEEN IMPACT is a teens only group open to ages 12-17.  The purpose of the FORGE Teen program is to allow the organization and teens an outlet and informational program away from both youth and adults to encourage independence and group solidarity.  The FORGE Teen group focuses on community service.  Leaders  encourage teens to evaluate their schools, neighborhoods and communities and determine what if any needs are not being met and then design a plan to meet local needs.  Placing teens in a position of making decisions to improve their communities teaches empathy, problem solving, leadership, and provides teens with a sense of accomplishment. Similar programs such as the Volunteer Fire Department Cadet programs, mandatory community service programs launched in public schools and the youth philanthropy board of the Delaware Community Foundation have all proven success of such community service programs involving teenagers.  The program will give teens something positive to do while also helping to improve the communities where they live.  Teen Impact also serves as the leadership of the FORGE Youth Council and works with younger FORGE Members to assist with organization programs and fundraising events.
IMPACT promotes strong friendships among youth of various backgrounds thereby decreasing any divide between them based on race, economics or cultural belief.  Monthly meetings affords teenagers the opportunity to address issues they face as teenagers such as substance use and abuse prevention, sexuality, goal setting, and other adult issues with adult volunteers and mentors.
In addition to determining community needs and planning community service projects teens often share a meal, play games and partake in open discussions about everything from religion and politics to social media habits and television.
Teen meetings are currently held on the 1st Tuesday of every month from 6:30-8:00 p.m.
Various community service projects are planned each year and are often found off campus on weekends.
For more information regarding Teen Impact, please call or text Tara Barrett at 443-513-1048 or e-mail info@forgeyouth.org