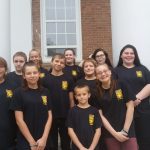 EXODUS is an intermediate music program open to youth ages 6-17.  The program is designed to teach youth music skills and the therapeutic value of music.  The group will practice and perform for the FORGE ORGANIZATION and at local venues. The therapeutic value of music is learned by participants both by their personal experiences learning music and music performance as well as their experiences performing for the community including medical rehabilitation facilities and nursing homes.  Exodus promotes musical arts as an alternative method of coping with negative situations in which youth reside.
     Musical arts and music therapy has been proven to be successful for reducing depression and anxiety.
    Check the FORGE Calendar for practice times and locations or to find a performance near you.